Mounds, Moon and Stars: The Legacy of Ohio's Magnificent Earthworks Art Exhibit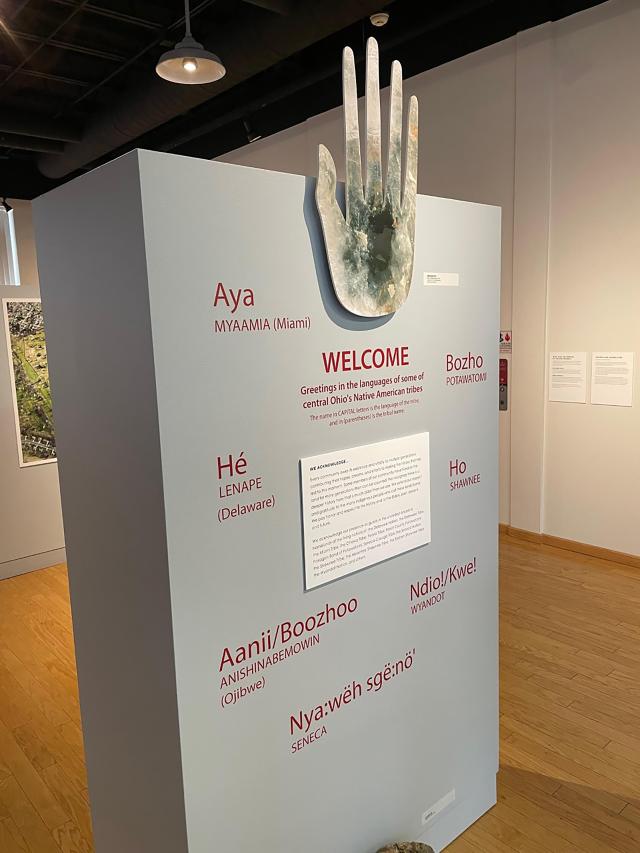 Opens January 21, 2 p.m.-4 p.m. | On Display through April 1, 2023
Free and open to the public.
The visionary people of the Hopewell culture's presence remain with us today, and we are still discovering the depth of their engineering expertise, artistic brilliance, and influential spiritual worldview. Join us in recognizing and appreciating the People who designed and developed the ceremonial sites we now call the Newark Earthworks.
55 S. 1st Street,
Newark, Ohio 43055
Hours  9 a.m.- 4 p.m.   Tuesday - Saturday
Developed in a collaborative partnership between The Great Circle Alliance and The Works, with support from the Newark Earthworks Center, The Ohio State University at Newark.
Our Storytellers Bodéwadmi Wisgat Gokpenagen The Black Ash Baskets of the Pokagon Band of Potawatomi
Free and Open to the Public.
Celebrate Indigenous Peoples' Day with us!!!
190 North Oval Mall | Columbus, OH 43210
Potawatomi basket making is a reclamation and recovery of a powerful piece of native knowledge and technology and represents a potent counter-colonial and counter-hegemonic act with lasting implications. This exhibit reflects an understanding that objects are not lifeless things that occupy space. They have spirit and meaning. Centered upon intellectual and material property, basket weaving is an opportunity for Native women and men to make their own histories by using the past to "read the present.
This exhibit is curated by Director of the Newark Earthworks Center John N. Low, PhD, associate professor in Comparative Studies at The Ohio State University and enrolled citizen of the Pokagon Band of Potawatomi.
Sponsored by The Newark Earthworks Center with support from an Indigenous Arts and Humanities Grant by the Global Arts + Humanities Discovery Theme.
Anna Tsouhlarakis: The Native Guide Project: Columbus
Feb 11, 2023–Jul 09, 2023
Free for all audiences
Click here to view our latest COVID-19 protocols.
See a full list of gallery policies on wexarts.org, including items prohibited in the galleries.
We strive to host inclusive, accessible events that enable all individuals, including individuals with disabilities, to engage fully. If you have questions about accessibility or require an accommodation to participate, please contact Accessibility Manager Helyn Marshall at accessibility@wexarts.org or via telephone at (614) 688-3890. Requests made by two weeks in advance will generally allow us to provide seamless access, but the Wexner Center for the Arts will make every effort to meet requests made after this date.
Reframing the discourse around Native American identity, artist of Navajo, Creek, and Greek descent Anna Tsouhlarakis focuses on the forced migration of Indigenous peoples—including in Central Ohio.
A multilayered commission, The Native Guide Project: Columbus builds on Tsouhlarakis's The Native Guide Project (2019–present), which deploys phrases that are concise and piercing, such as "I LIKE HOW YOU SEE NATIVE AMERICANS AS YOUR INTELLECTUAL EQUAL." The new work will engage the center's interior and exterior spaces, as well as sites around Columbus through a partnership with Orange Barrel Media.
The Native Guide Project: Columbus continues the artist's earlier text-based works such as Edges of the Ephemeral (2012) and In Other Words: A Native Primer (2013)—in which she worked closely with members of Native American communities about their beliefs and experiences.
In January and February 2023, the center's dedicated video gallery The Box will present Tsouhlarakis's short Breath of Wind.
Indigenous Wonders of Our World | The Hopewell Ceremonial Earthworks
Ohio History Connection
800 E. 17th Avenue
Columbus, Ohio 
Now open at the Ohio History Center, discover some of the vast earthworks that American Indian people built 2,000 years ago. Their new exhibit, [external link], explores eight ancient earthworks in Ohio that are candidates for the United Nations' World Heritage List, a list of the world's greatest wonders.
In this interactive exhibit, learn how ancient American Indians employed astronomy and geometry to align the earthworks with cycles of the sun and moon, see 2,000-year old artifacts that suggest what people did at these sacred sites and leave with a new appreciation for eight extraordinary landmarks in our midst.
The exhibit and its programs are included with museum admission. Admission ranges from $7 to $13 and is free for Ohio History Connection members. For more information, visit ohiohistory.org [external link].
Ohio's First Humanists: Native Americans from Mound Building to Modern Voices
This online exhibit traces Indigenous Americans' material and cultural contributions to Ohio from their early creation of large earthworks to modern representations and reflections on the past.
Learn about First Nations' roles in shaping place names and get interpretive glimpses in to early Ohio's history of Native American-white contact, which included collaboration, conflict, and removal.
Explore present-day stewardship of Native American culture and art, including the impressive collection of Diné (Navajo) weavings at the Kennedy Museum of Art [external link], as well as the voices of innovative communicators looking to change perceptions about Native American peoples and powerful leaders, such as Chief Glenna Wallace of the Eastern Shawnee Nation whose ancestors were displaced from these lands.
And discover the value of moving beyond traditional Eurocentric understandings of the humanities to explore the first humans to inhabit this region and North America more broadly.
The curators extend special thanks to John N. Low, Ph.D., Citizen of the Pokagon Band of Potawatomi and Director of the Newark Earthworks Center, Ohio State University Newark Campus, for his advice and review of this exhibit.
For more information, visit Ohio University's The Charles J. Ping Institute for the Teaching of the Humanities [external link].
Crossroads of Destiny: Indians Settlement Treaty of Greene Ville
"a stunning exhibit telling the history of the Treaty of Greene Ville. Greene Ville was the largest stockaded fort ever built in North America and it was the scene of the most significant American Indian treaty ever negotiated. The Treaty of Greene Ville of 1795 opened the door to the settlement of the Midwest and resulted in Ohio statehood eight years later. The Treaty also ended forty years of conflict over the upper Ohio Valley."

Garst Museum
205 North Broadway
Greenville, OH 45331

For more information, visit: https://www.garstmuseum.org/exhibits [external link].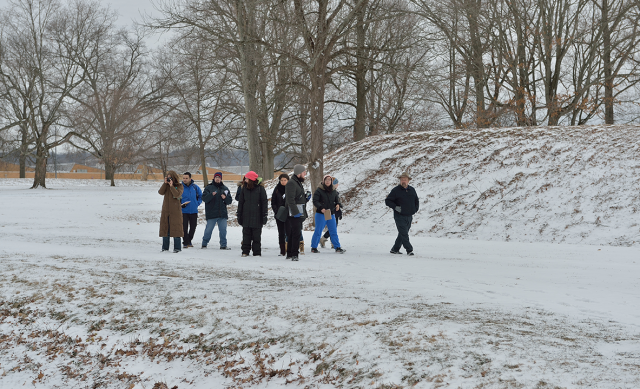 Investigate our history, past events, and exhibits...